This is the Webster University Page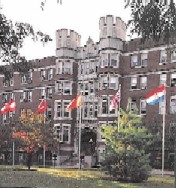 Webster University is a fully accredited four-year university located in Webster Groves, Missouri in the metropolitan St. Louis area. To learn more about Webster University, click here
I am an adjunct instructor at Webster University teaching C++ and data structures in the Math and Computer Science department.
This site provides the support materials used in the classes.
The next class I will teach will be COSC 1560 - Programming II. That will be in the Fall, 2006 semester. The class will meet at the Old Post Office campus in downtown St. Louis on Thursday evenings from 5:30 p.m to 8:30 p.m.
COSC 1560 - Programming in C++ II